Our purpose-built Halls of Residence provide study bedrooms for seventy two students. There are single rooms and twin rooms (two people sharing).
Sedgewick Hall - Each room has its own en-suite facility with shower, toilet and wash basin. There are three rooms for students who use a wheelchair, and a lift allows access to all floors. Rooms are arranged into units of eight, with each group of students sharing a kitchen / sitting room area.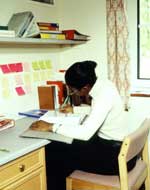 Sedgwick Mews - Accommodation is divided into four blocks (houses) of six rooms. Each house has two communal shower rooms, kitchen and living area.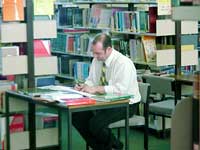 We provide a friendly and efficient library service to provide students with a wide variety of information and materials.

The library is a learning resource centre, housing both print and non-print material available for loan and reference purposes. In addition to the collection of books there are journals, video tapes, British Standards, daily newspapers and access to the Internet.
Additional facilities include an OPAC system (Open Public Access Computer) for use in researching and reserving books, CD ROMS (with software for accessing a wide range of business, scientific, European and general encyclopaedic material), video viewing and editing facilities, and photocopying facilities.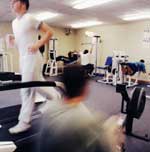 The PowerSport Health and Fitness Centre is a well equipped leisure facility including a large fitness room, sports hall, and squash courts.
The fitness centre has aerobic machines including cycles, rowing machine, running machine and "Climb Max" stepper. It also has individual weight assisted machines which help to tone the major muscle groups.
A friendly environment and a warm welcome are guaranteed, along with constant supervision by qualified staff at all times.
The nursery is open every day for children of our students. Children are admitted from age 18 months to 5 years old.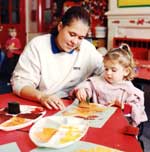 Stepping Stones is open to all Students/learners at the College. This is open from 8.50 am to 4.45 on Monday to Friday for children aged 2 to 5 years and costs £3.00 per session. You should discuss your needs with the Playgroup Leader, on ext. 228 when you reserve your training.